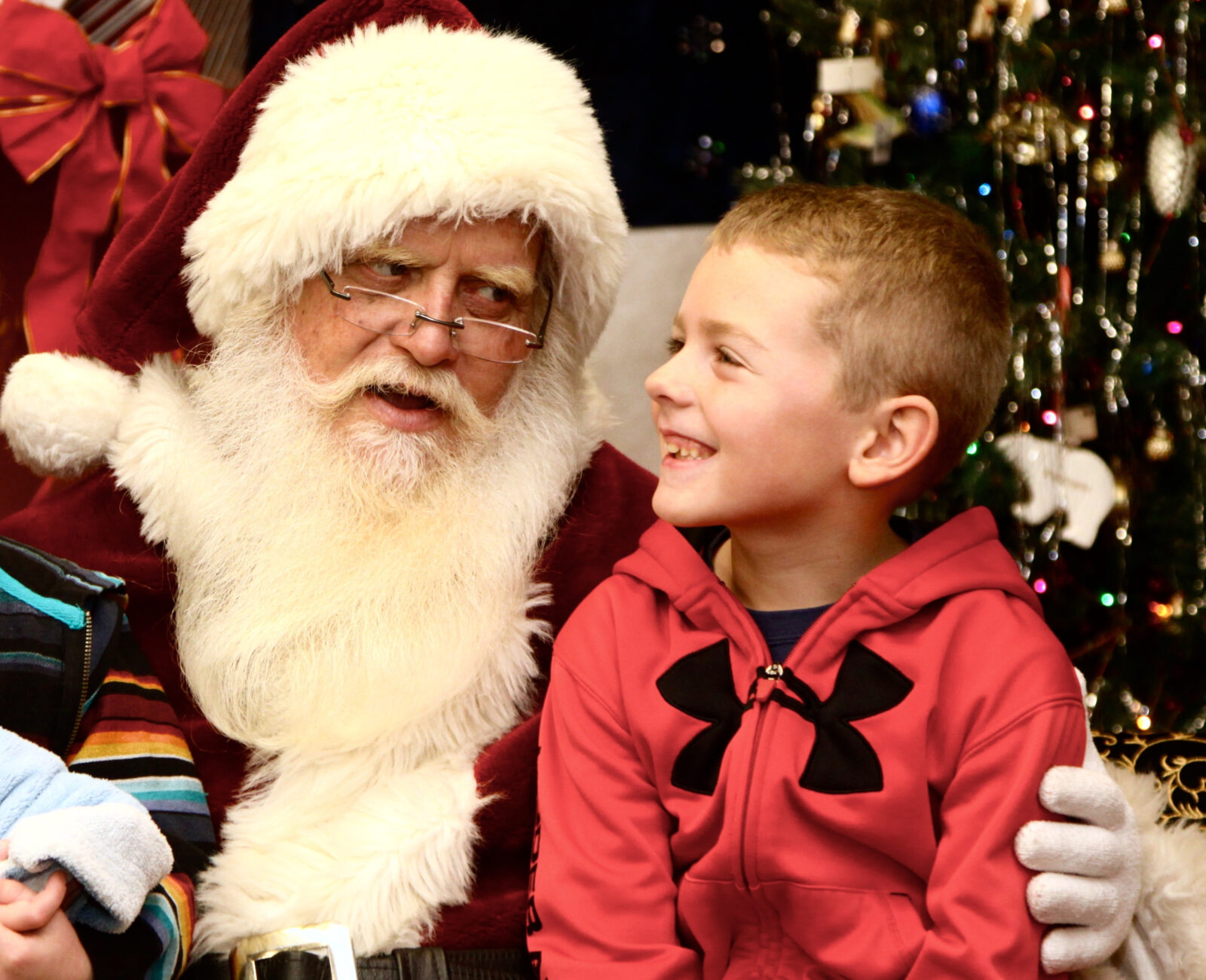 Breakfast with Santa
Breakfast with Santa is a delightful holiday event that brings joy to children and families alike. It will take place on December 9th from 9AM – 11AM at Plain & Fancy Restaurant (3121 Old Philadelphia Pike (Route 340) Bird-in-Hand, PA 17505) on Plain & Fancy Farm, just upstairs from Smokehouse BBQ & Brews. As you enter the festively decorated venue, you're greeted by the enchanting aroma of a scrumptious buffet spread, featuring an array of breakfast favorites like tasty French toast casserole, crispy bacon, and warm sticky buns. Children's eyes will light up as they load their plates with delicious treats, eagerly awaiting a special visit from Santa Claus himself. Did we mention the hot chocolate station?
A talented professional photographer captures your child's visit with Santa, their wide smiles, as they get a small gift from Santa himself. All photos are provided digitally to families so they can cherish these beautifully captured memories for years to come.
This enchanting experience not only satisfies the taste buds but also creates lasting memories that embody the true spirit of the holiday season. Breakfast with Santa, complete with a buffet and photographer, is a heartwarming tradition that brings families closer together and spreads the joy of Christmas. Call today for your tickets – (717) 768-4400.
Limited number of tickets available so call soon. Ticket sales end November 28.
Details on Breakfast with Santa
Tickets include breakfast buffet, digital images with Santa, and a small gift for each child as well as tax and gratuity.
Tickets are $25 for kids (ages 12 and under) and $30 for adults.
Time: December 9th from 9AM – 11AM
Location: 3121 Old Philadelphia Pike (Route 340) Bird-in-Hand, PA 17505
Tickets must be purchased in advanced and are non-refundable.
Call (717) 768-4400 Monday to Friday starting at 10AM to purchase tickets.
FREQUENTLY ASKED QUESTIONS
What will be on the breakfast buffet?

Scrambled Eggs, Bacon, Sausage, Breakfast Potatoes, French Toast Casserole with Fruit Toppings, Fruit Salad, Mini Stickies, Bagels, Cold Cereal. Drinks: Orange Juice, Milk, Coffee, Hot Tea. Plus, a Hot Chocolate Station. Please note menu is subject to change.

What if my child has allergies or is gluten-free?

Please let us know when you call for your tickets our reservationist will be able to provide details. Also, please, remind the host at the door so we can help you navigate the buffet. We will not have any items with nuts on the buffet (however please be aware that products like sticky buns may be made in facilities that process nuts).

What if the weather is bad?

This event will be held regardless of weather

Will we have assigned seats?

No, we will seat people as they come in. Our tables accommodate up to 10 people each so if you are a smaller party, you may be sitting with another family.

What if I need to add more tickets to our party?

As long as we have seats available, you may call to purchase additional tickets.

Are we guaranteed time with Santa?

As long as you are here when the event starts, you will have time with the photographer and Santa.

Is the venue handicap accessible?

Yes, there is an elevator and handicap restrooms.

Are family restrooms available?

Yes, there is an available family restroom.

How much does a picture package cost?

The digital images of your family's visit with Santa are included with the ticket cost.

When do ticket sales start and end?

Ticket sales open October 3rd. Ticket sales end November 22nd.

How do I purchase tickets?

Give us a call at (717) 768-4400.

When do I get my tickets?

We will email your digital tickets to you the Tuesday after you order via phone.
Related Articles