Thanksgiving Reservations & Takeout
Let Smokehouse BBQ & Brews make your Thanksgiving stress free. We have 2 options this Thanksgiving. Our Gobbler to Go which is a full Thanksgiving meal for 4 which you can take home to enjoy OR join us for Thanksgiving with our pre-fixe Thanksgiving menu.
Pre-Fixe Thanksgiving Menu for Dine-in
Build-Your-Own Platter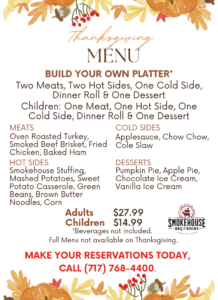 Two Meats, Two Hot Sides, One Cold Side, Dinner Roll & One Dessert: $27.99
Kids: One Meat, One Hot Side, One Cold Side, Dinner Roll & One Dessert: $14.99
MEATS
Oven Roasted Turkey, Smoked Beef Brisket, Fried Chicken, Baked Ham
HOT SIDES
Smokehouse Stuffing, Mashed Potatoes, Sweet Potato Casserole, Green Beans, Brown Butter Noodles, Corn
COLD SIDES
Applesauce, Chow Chow, Cole Slaw
DESSERTS
Pumpkin Pie, Apple Pie, Chocolate Ice Cream, Vanilla Ice Cream
*Beverages, tax and gratuity not included
RESERVATIONS OPEN 9/11.
CALL (717) 768-4400 to make your reservation.
Gobbler-To-Go (Takeout)
FAMILY MEAL FOR FOUR: $95.
2 Pounds of Oven Roasted Turkey
1 Quart of Smokehouse Stuffing
1 Quart of Mashed Potatoes
1 Quart of Green Beans
8 Dinner Rolls
Cranberry Relish
Apple Sauce
Gravy
4 Slices of Pumpkin Pie
*Beverages and tax not included. No substitutions.
ORDER TODAY, CALL (717) 419-1337.
Commonly Asked Questions:
Do I need to make reservations? We highly recommend making reservations.
When is the last day that I can make reservations for dine-in? We will take reservations up until 11/20 for Thanksgiving as long as there is availability.
Will your regular menu be available on Thanksgiving? No, we will only be serving our Thanksgiving menu.
When is the last day to order Gobbler-to-Go? The last day to order take out "Gobbler-to-Go" is 11/20.
When is pick up time for Gobbler-to-Go? Pick up is from 11:45AM – 6:30PM. When you reserve your meal, you will be able to select your pick-up window.
What is your cancellation policy for Gobbler-to-Go? All orders and cancellations must be placed by 11/20.
What are the gluten-free items on the Gobbler-to-Go? Turkey, Mash, Green Beans, Cranberry Relish, Apple Sauce.
Warm up instructions? All items are pick-up hot and ready to eat.
Related Articles