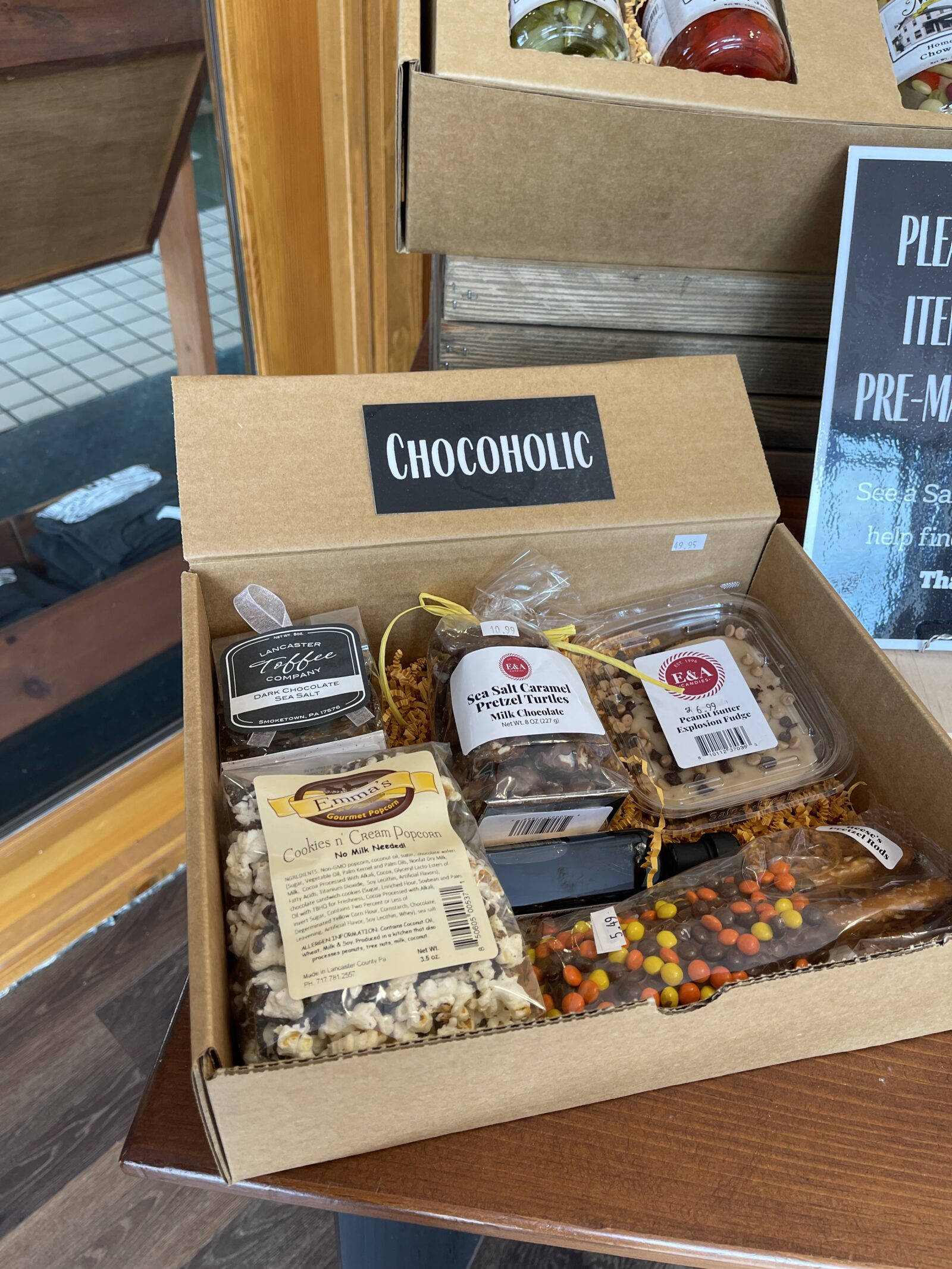 Holiday Gift Giving Guide for Lancaster County
Lancaster County is filled with local treasures and artisanal products that will help you find the perfect gift for even the toughest friend or family member from hand-stitched Amish quilts to sweet gooey shoofly pie.
Two stores that worth exploring during your holiday gift shopping are The Quilt Shop at Miller's and Locally Made Food Shop. Both are found on Route 30 in The Shoppes at Miller's. The Quilt Shop at Miller's is a hidden gem for all things quilt related. With a curated selection of hand-stitched quilts, quillows, and handmade artisanal crafts, this charming store has been a beloved destination for both locals and visitors seeking unique gifts and home décor. Their commitment to quality and craftsmanship shines through in every piece they offer. Locally Made Food Shop focuses on food and kitchen items made here in Lancaster County, including Miller's Bakery. You'll find jams, jellies, spice mixes, tea, coffee and of course baked goods like shoofly pie and chocolate pecan pie. Additionally, there are Lancaster County made kitchen items including wooden cutting boards, Lancaster Cast Iron pans, and more. Make your gift giving more personal and unique this Christmas with the help of Lancaster County.
Top 6 Special Gifts from Lancaster County to Give this Holiday Season
Hand-stitched quilts by Amish and Mennonite artisans. Explore a stunning array of quilts, ranging from traditional Amish patterns to contemporary designs. These quilts are not only beautiful but also functional, providing warmth and comfort throughout the winter season. Not quite looking for a full quilt? Consider a wall hanging, bed runner or throw. Shop their quilts online at QuiltShopAtMillers.com.
Handmade items for the kitchen including aprons, spice mats and potholders in a multitude of colors. These make great gifts on their own or add spices or jams from Locally Made Food Shop right next door to create a gift that your loved ones will remember for years to come.
Soft cloth books and quilted stuffed animals – there is plenty here for those precious babies and children in your life. Whether it's a baby blanket or a quilted growth chart wall hanging, you are sure to find the perfect unique gift to bring smiles to their faces.
Miller's Bakery Pies – Send a Shoofly Pie or their World-Famous Chocolate Pecan pie to someone who misses the sweet taste of Lancaster County. Not a pie fan? Miller's Raisin Bread with icing is a local favorite. Purchase your pies today at LocallyMadeFoodShop.com or call 717-687-6621.
Custom Gift Basket from Locally Made – With locally made jellies, jams, fruit butters, coffee, olive oils, teas and more, you can create your own personalized basket that is perfect for your special someone. Don't know what to choose? Pick one of our pre-made gift baskets. We also offer curated gift boxes so you can ship the flavors of Lancaster County to friends and family across the US.
Gift Cards – Can't decide? The Quilt Shop at Miller's, Locally Made Food Shop and Miller's Smorgasbord offer gift cards in any denomination that are good at all 3 places plus AmishView Inn & Suites and Smokehouse BBQ & Brews. This allows your loved ones to select their own special gift, eat at Miller's or even put it towards a night a AmishView. Starting November 1 and going until December 31, for every $25 in gift cards you purchase, you will receive $5 in bonus bucks. See TheShoppesAtMillers.com for details and to purchase gift cards.
The Shoppes at Miller's is a great place to discover authentic, handcrafted, and heartfelt gifts that define Lancaster County. This holiday season, take your gift giving to a whole new level with handcrafted creations and tasty treats from Lancaster County.